British Polo Day Celebrates It 60th Event in Henley-On-Thames
Press Release
Saturday 26th June 2017 – Henley-on-Thames, UK – Presented by RJI Capital and hosted by The Schwarzenbach family, British Polo Day Great Britain on the 24th June marked its 60th event. Having held 59 invitation-only events in 16 countries since 2009, the annual series of events always returns to their home turf for the English Summer before completing the year in the Far East with events in China, the Indonesian island of Nihiwatu, and India.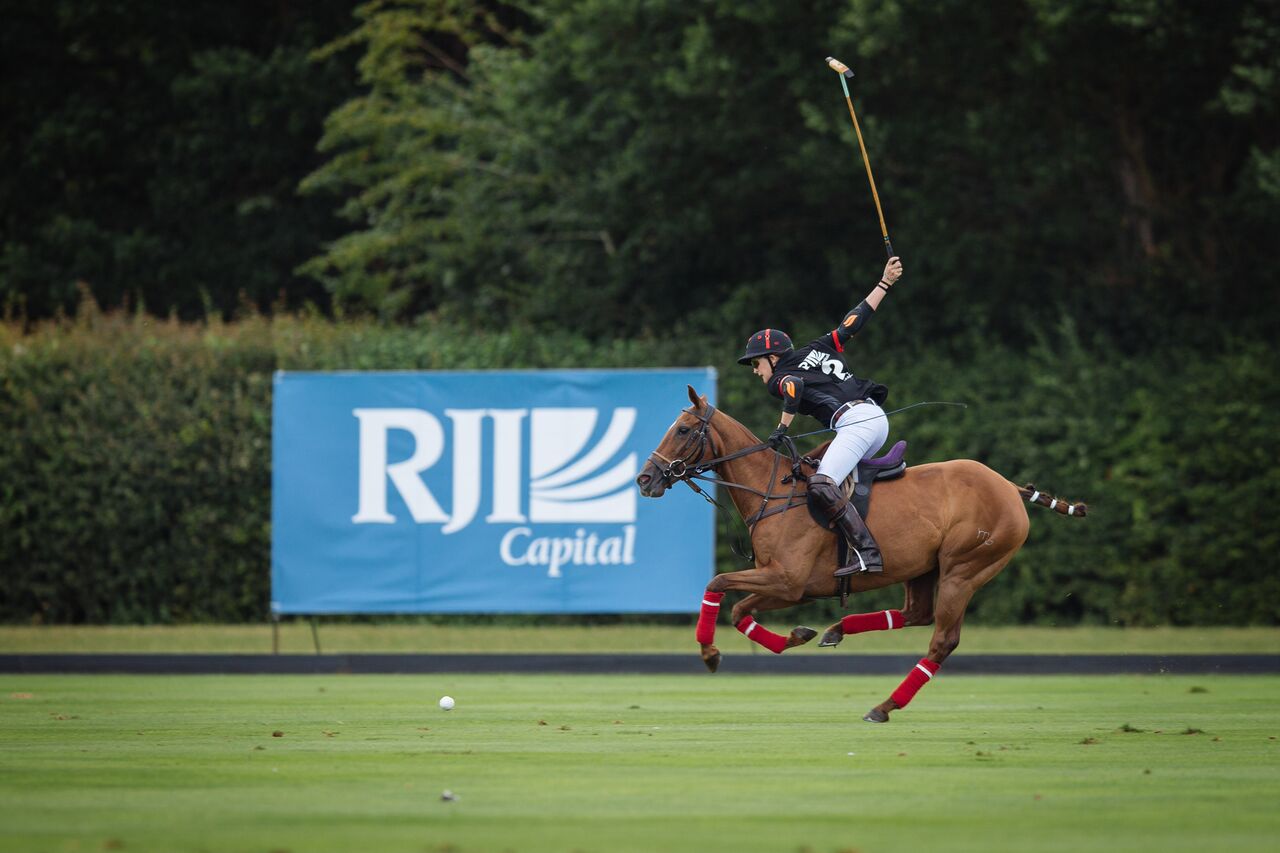 British Polo Day is an unparalleled platform celebrating the history and heritage of polo with a global community, bringing together the world's top companies and key influencers. It provides a platform for business in emerging and growth markets, giving partners enviable access to international contacts.
The Henley event was a high calibre sporting spectacle with the number one male player in the world, Argentinian Adolfo Cambiaso, playing his first exhibition match. At the River Ground, Black Bears, the top female player in the world, Brit Nina Clarkin, was also competing. Over 100 top British and international players have played at British Polo Day since its inception, and this year attracted well-known names in the polo world, such as HH Maharaja Sawai Padmanabh Singh of Jaipur, former England Captain Malcolm Borwick, Lord Wrottesley, and The Hon Tristan Phillimore.
Play commenced with home side Black Bears Vs KIG, followed by British Schools Vs Rest of the World. The highlight of the opening game was undoubtedly the chance to watch the Cambiaso family take the field, with Adolfo joining forces with daughter Mia, and 11-year-old Peroto representing the Black Bears. It was evident that the Cambiaso name will continue to dominate polo for years to come, with Peroto in particular relishing the dual against his father. Ultimately neither side could break away though, with KIG owner Bash Kazim taking the 'Most Valuable Player' award in a game that ended all square at five goals apiece.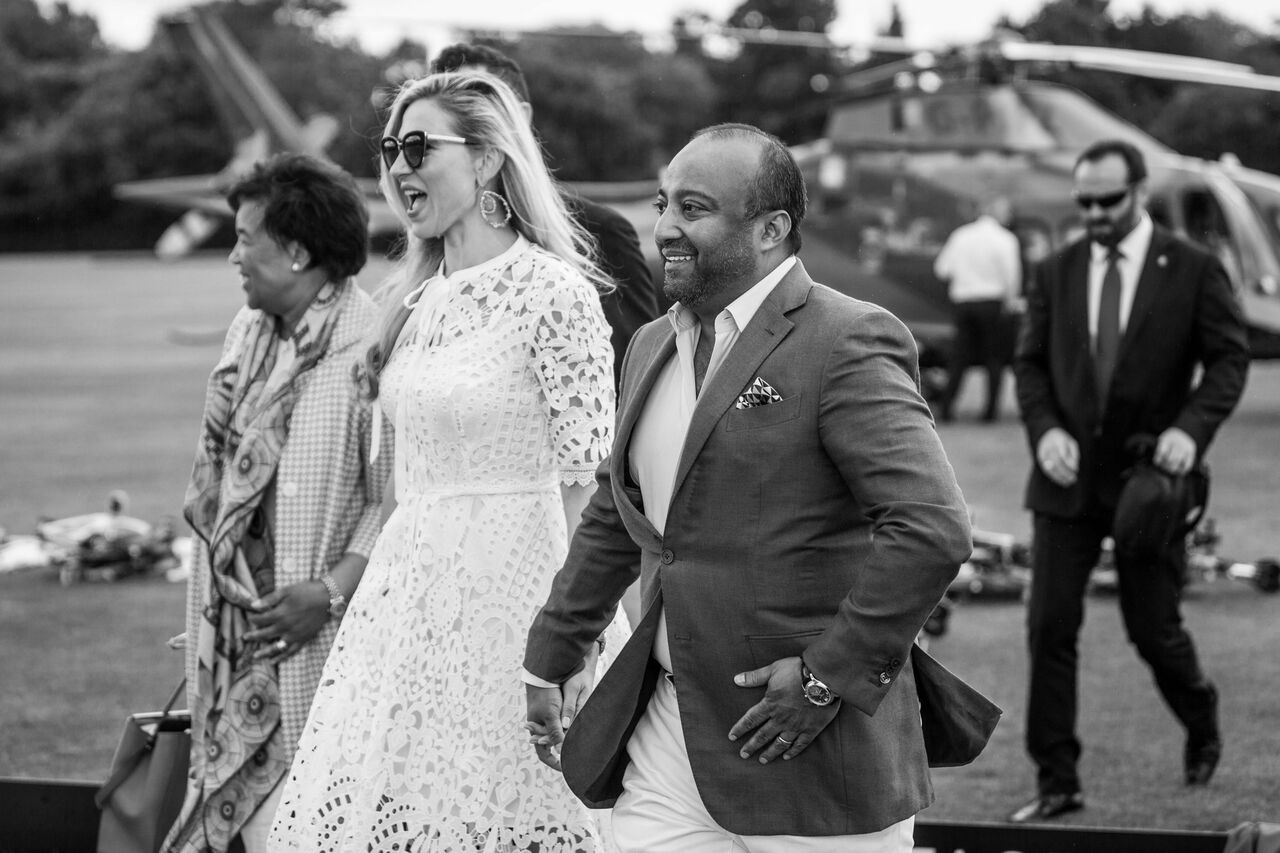 The second game saw the British Schools side coming up against the Rest Of The World. With England international Malcolm Borwick controlling the game for the British side, they never looked in danger of losing. British number two Henry Porter set the tone early on with arguably the goal of the day, and their confidence never dropped from there. With both Will Emerson and Jamie Morrison at the back for Rest of the World, the British Schools side had to remain alert, and it was only a late intervention from Malcolm Borwick that secured their 5-4 victory.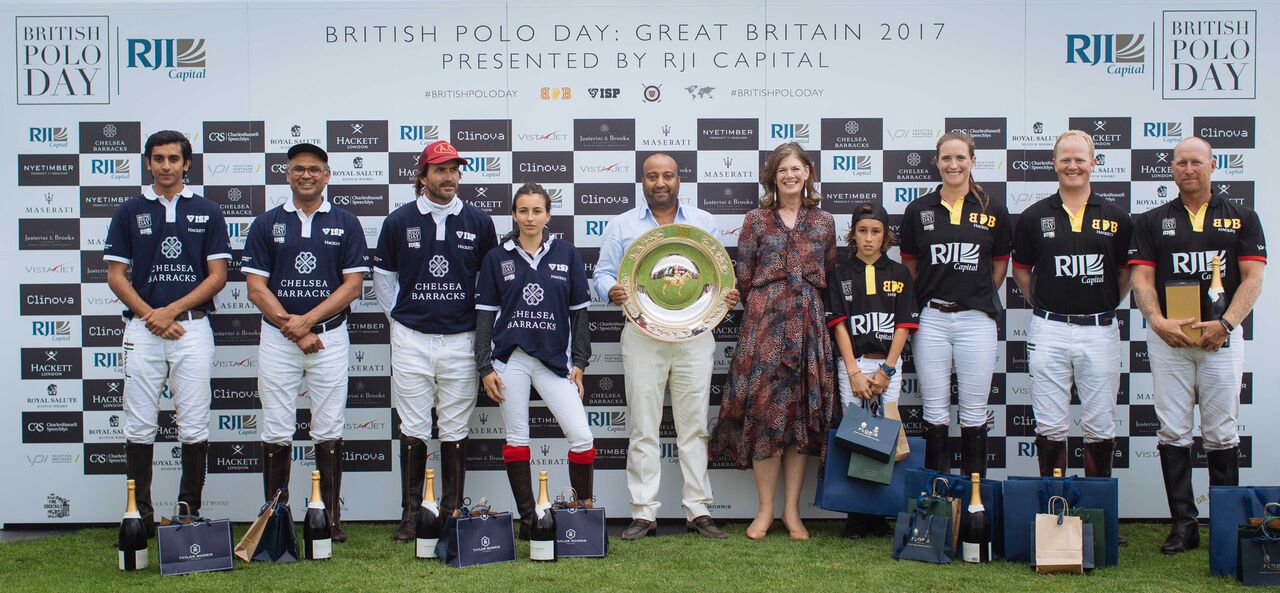 Ben Vestey, the recently appointed CEO and Partner of British Polo Day said: "The base of partners – with over 2,000 years of combined heritage between them – speaks volume about the relationship building opportunities that British Polo Day creates.  The Chairman Tom Hudson and I are particularly proud this year of the level and spirit of competition at the Great Britain event, with the world's number one male and female players competing, Adolfo Cambiaso and my sister, Nina Clarkin. This is Adolfo's first exhibition match of this kind and he is delighted to be playing with his 15-year-old daughter Mia for the Chelsea Barracks team against his 12-year-old son Poroto playing for Black Bears. This year we are also hosting a British Luxury Emporium (BLE), which showcases young and upcoming British brands."
The current title partner is RJI Capital, the strategic advisory and merchant banking firm with a premium track record in global transactions. Mr Ron Wahid, Chairman & CEO of RJI Capital observed "RJI Capital celebrates its third year of partnership with British Polo Day in 2017. It has been a wonderful journey of discovering new synergies between our business and this unique international network of like-minded individuals founded upon a love of the sport of kings."
British Polo Day is a fast-growing, ambitious company, which partners with some of the World's best companies, including RJI Capital, Chelsea Barracks, Royal Salute, Yachting Partners International (YPI), Nyetimber, Vista Jet, Hackett, Charles Russell Speechlys, Justerini & Brooks, Clinova, Dr Harris, Taylor Morris, Barnard & Westwood, True Luxury Travel, Chrystal Capital, Floris, and South Kensington Club.

The success of the British Polo Day has been largely down to word-of-mouth endorsement from many guests and supporters including key figures in government, the aristocracy, diplomats, military, fashion, art and popular culture. In addition, British Polo Day have hosted members of 12 royal families, 100 independent billionaires and leaders in world innovation including Sir Richard Branson and Elon Musk. Over 20,000 guests have enjoyed British Polo Day in the last seven years, and British Polo Days have to-date raised over $2 million USD, from a standing start in 2011.
NOTES TO EDITORS:
For media enquiries, image and interview requests please contact: sam@britishpoloday.com and laura@mercurycomms.com
For information, visit our media room or do visit the website, and follow us on Instagram, Twitter or become a fan on Facebook for all the latest news and updates.
British Luxury Emporium (BLE) at British Polo Day included:
Drills by Amy Williams, Taylor Morris, Nyetimber True Luxury Travel, Land Chocolate, Jago Jackets, Beatrice Jenkins, Ottoman Collection, Gormley & Gamble, and Luca Faloni
Upcoming events in 2017:
The next events for this year will be China in September under the patronage of Mr Lieu Shi Li, and then in October the Britannia Elevation: Global Gathering in Nihiwatu under the patronage of Chris Burch and James McBride.  The year then closes with two events in India, Jaipur under the patronage of Her Highness Rajmata Padmini Devi of Jaipur, and Jodhpur under the patronage of His Highness Gaj Singh II The Maharaja of Marwar-Jodhpur. In 2018, British Polo Day is very excited to be adding the New York to the list of destinations.
About RJI Capital:
RJI Capital is a wholly owned subsidiary of Magellan Investment Holdings, an investment holding company with investments in energy and natural resources, aerospace and defense, real estate, and technology. RJI Capital is a strategic advisory and merchant banking firm with a premium track record in new market entry and international transactions, having closed deals totaling billions in value. RJI's industry-leading services and expertise are delivered from its offices in London, Dubai, Hong Kong, New York, Paris, and Washington, D.C. RJI Capital's sister company, Arcanum, is a global intelligence company that provides services to sovereign governments and multinational corporations to help address some of their most pressing challenges and complex strategic issues.
Visit www.rjicapital.com for more information.