British Polo Day's Auspicious 50th Event Drives the Momentum of British Brands in the Global Arena
Press Release
At this crucial time in British history, British Polo Day has successfully orchestrated a platform on which British brands can be championed on a global scale. It is by no means a coincidence that the 50th British Polo Day delivered a noticeably powerful change of gear to what is becoming one of the world's most dynamic platforms, for a global community of influential guests. Presented by RJI Capital – an international strategic advisory and merchant-banking firm – British Polo Day GB 2016 realised this compelling partnership; successfully maximising business connections through trusted relationships between their respective networks.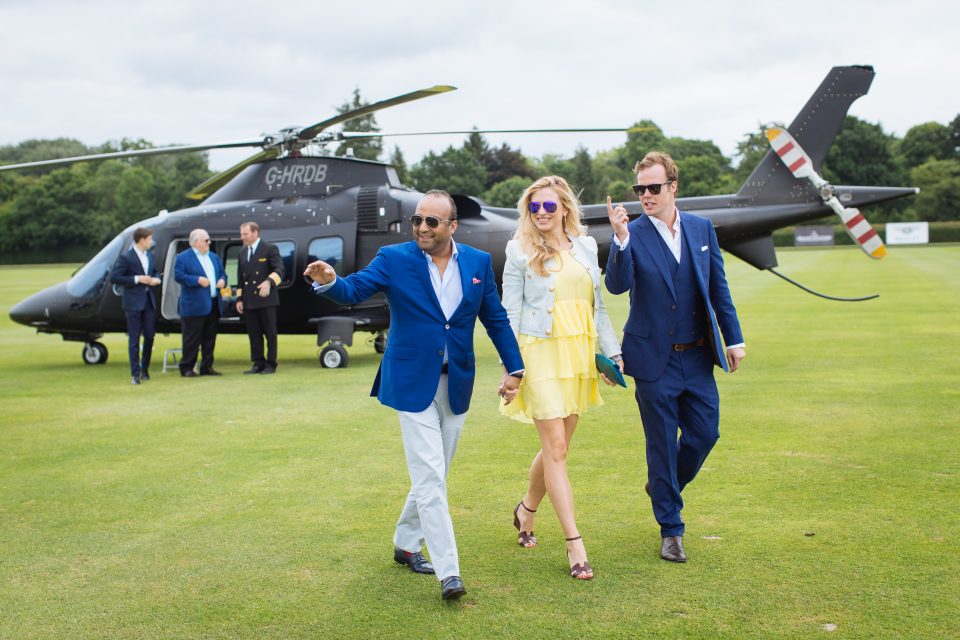 Hosted by Urs and Francesca Schwarzenbach at the immaculate River Field, Black Bears; VIP guests included HRH Prince Michael of Kent, Lord Timothy Bell, Eve Branson, Marchioness of Milford Haven and Field Marshal The Lord and Lady Guthrie who enjoyed the very best that Britain has to offer, whilst experiencing the fast-paced excitement of high-goal polo. Not to mention a riveting auction that saw British Polo Day's philanthropic efforts storm past the $2million mark, which is especially significant on the milestone of British Polo Day's 50th global event. Having accomplished 50 successful events in no less than 16 countries, over the past 6 years, Saturday's event was a high salute to all that has been established within the ecosystem of British Polo Day, thanks to the dedication of its partners and the team.
Guests arrived in chauffeur-driven Bentley Mulsannes to be treated to a Nyetimber reception; a delightful homegrown sparkling wine from West Sussex, recently heralded as the finest in the world. The opening game of Brompton Bicycle Polo was an amusing display of efforts seeing the Chase Vodka Team rise to victory against the Taylor Morris Team.
Between the beautiful Harrods arches, the resident Harrods Green man lead guests to the pitch-side 'Potting Shed Picnic', where chef Cicely Violet served a heavenly feast-style lunch with a tower of colourful and artistic cakes. Together with the Chase Vodka, Williams Gin and Seedlip bars, it was clear that British talent in 'food and beverage' is indeed coming to the fore. Discussion at the picnic was widely focused on the "Crawling Lady Hare"; a vast sculpture of manipulated wire and masterfully crafted bronze, by internationally renowned, London-born artist Sophie Ryder.
Few could resist the British Luxury Emporium, where the chance to meet the loyal founders behind the selected British brands was an engaging experience for the guests. There was something for everyone: Beaufort & Blake proved a hit with their linen shirts; Fairfax & Favor's elegant handmade boots perfectly suited the occasion and Desmond & Dempsey delighted the ladies with their timeless silk pyjamas. Taylor Morris Eyewear proved that sunglasses are a necessary statement despite the lack of sunshine and the exotic display of Ethan K handbags were outshone only by Ethan Koh himself. VIP guests, Magdalena Wahid, Viscountess Chelsea and Hon. Philippa Cadogan were all seen leaving the emporium proudly displaying his remarkable creations.
Meanwhile, seated guests were treated to a sumptuous three-course meal, all sourced locally and prepared on site by Theo and Zoe Cooper: the brother and sister team behind Chateau Marmot. Royal warrant holders, Justerini & Brooks, have been providing British Polo Day guests with their unrivalled portfolio of fine wines since the early days of the British Polo Day journey. Having supplied wine to every successive British Monarch since the coronation of King George III in 1761, this is no small contribution and heralds Justerini & Brooks' long lasting relationship with the sport of kings.
The visual stimulation of Christian Hook's abstract portraiture and Hamish Mackie's wonderfully tactile wildlife sculptures were admired by all and as the lunch drew to a close, guests were up on their chairs for the traditional Quaich experience (with Royal Salute 21 Year Old whisky). Led by none other than His Grace The 13th Duke of Argyll, Torquhil Campbell and the animated Peter Prentice, Chairman of the Keeper of the Quaich.
Once all were safely seated back on their chairs, auctioneer Jonathan Benson took to the microphone to rally the guests into what became the most monumental auction to date. Thanks to exceptional lots including beautiful Amrapali emerald and diamond earrings and a week at the unparalleled Nihiwatu on Sumba Island, a total of $114,790 was raised, supporting Head Injury Through Sports (HITS), The Sumba Foundation, the Eve Branson Foundation, Wings for Life and One Drop. In a touching moment, for those who have watched British Polo Day's philanthropic efforts build, the landmark $2 million was effortlessly achieved.
Spirits were high as all parties reveled in the achievements of the day, and all before the excitement of the polo even began. Bentley's extraordinary Bentaygas – peerless in the luxury SUV sector – lead the opening ceremony, drawing guests pitch-side to witness the first match. RJI Capital's Britannia El Remanso kicked off the proceedings against host team Bentley Black Bears in a bid for the RJI Capital River Field plate. Despite a phenomenal 60 yard shot from Guy Schwarzenbach of Black Bears, the impressive feat of high-goal polo culminated in an exciting 6-4 win for the all British team, Britannia El Remanso.
Players and guests alike relished in the announcement of afternoon tea back in the marquee. The players were seen quenching their thirst with the restorative Clinova ORS effervescent tablets, or in some cases The Wimbledon Brewery Gold Lager, whilst the classic English scones and Cicely Violet's Harrods cake were gratefully indulged. As the visiting US team, The London West Hollywood Will Rogers Polo Club, took on the Jaeger-LeCoultre British Schools, guests returned their attention to the field to watch the final match of the day. Marchioness of Milford Haven – Jaeger-LeCoultre's very own brand ambassador – proved that all that matters on the field is skill by scoring the first goal of the match. All eyes were focused on the closing half as Charlie Cadogan played an exceptional game securing the Bentley Cronan Cup for the British Schools with a 6 1/2 – 5 win against the visiting team.
Marking the end of a scintillating afternoon's polo, guests and players all came together to celebrate the prize giving, where British Silverware's magnificent pieces gleamed waiting for their worthy victors. Ron Wahid and host Urs Schwarzebach presented the RJI Capital River Field Plate to Charlie Hanbury of RJI Capital's Britannia El Remanso whilst Graeme Russell presented the Bentley Cronan Cup to Marchioness of Milford Haven of British Schools. The Royal Salute 'Most Valuable Player' was presented by The 13th Duke of Argyll, Torquhil Campbell to a deserving Omar Mangalji of Will Rogers Polo Club. Chadwick Delaney presented the Justerini & Brooks 'Best Playing Pony' to the beautiful Ebe, Jaeger-LeCoultre awarded Chevy Beh the 'Shot of the Day' and Luca Del Bono of South Kensington Club presented the 'Lady of The Day' prize to Marchioness of Milford Haven who will no doubt enjoy her chance to unwind at the club. As the evening drew in and the sun burst out from behind the clouds, jubilant guests came together in the Harrods garden to enjoy the mouth-watering asado with celebrations well underway around The Rosebery Bus.
For further information please visit www.britishpoloday.com and www.rjicapital.com.
British Polo Day Great Britain
Saturday 18th June 2016
The River Field, Black Bears Polo Club,
Henley-on-Thames
Official Partner List for British Polo Day GB 2016
RJI Capital, Harrods, Royal Salute, Bentley, Jaeger-LeCoultre, Charles Russell Speechlys, Justerini & Brooks, Thyme, Emsworth Consulting, Billionaire Magazine, British Silverware, Charles McDowell Properties, Clinova, Randle Siddeley, Global Partnership Family Office, Nyetimber, True Luxury Travel, Globe-Trotter, Taylor Morris, D.R. Harris, Floris, Cassabo, Brompton, Barnard & Westwood Stationary, South Kensington Club, Walpole British Luxury, Alive Made This
About British Polo Day
British Polo Day is a celebration of British luxury heritage – Over the past five years the British Polo Day calendar has grown to encapsulate a network of 10 global experiences per year including Abu Dhabi, Dubai, USA, Marrakech, Great Britain, China, St.Tropez, Singapore, Nihiwatu, Mexico, Jodhpur and Jaipur. Partnering with a selected group of partners with a combined heritage of over 2500 years, British Polo Day brings together a global network of over 28,000 eminent entrepreneurs, government officials, philanthropists and not to mention members of 12 Royal Families. This distinctive platform provides our partners and guests elite engagement in emerging and interesting markets whilst sharing in unique experiences across the globe.
About RJI Capital
RJI Capital is a wholly owned subsidiary of Magellan Investment Holdings, Limited, an Anglo-American investment holding company with investments in energy and natural resources, aerospace and defence, real estate, and technology. RJI Capital is a strategic advisory and merchant banking firm with a premium track record in new market entry and international transactions, having closed deals worth billions of dollars in value. RJI's industry-leading services and expertise are delivered from its headquarters in London, and supported by offices in Dubai, Hong Kong, New York, Paris, Washington, D.C., and Zurich. RJI Capital's sister company, Arcanum, is a global intelligence company that provides services to sovereign governments, large multinational corporations and financial institutions, to help address some of their most pressing challenges and complex strategic issues.