The Sixth British Polo Day China Encourages the "Golden Age" between Britain and China
Press Release
At this decisive time in British and Chinese relations, British Polo Day China successfully celebrated the continued trust between two horse-loving nations.
British Polo Day China – presented by RJI Capital – brought international and national guests together over a stimulating three day itinerary promoting ties between Britain and China through an appreciation of craft, heritage, culture and of course, the international language of the horse.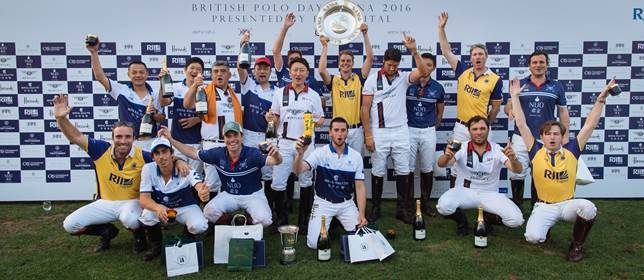 On Thursday 1st September, guests arrived at NUO Hotel Beijing, the flagship property of NUO Hotels inspired by the artistic and cultural visionaries of the Ming Dynasty, checking in before heading to the rooftop O'Bar for the official Champagne Taittinger launch party. The  spectacular outdoor setting perfectly fitted the celebrations, as guests anticipated the start of British Polo Day China with a glass of Tattinger champagne followed by a tasting of 21 year old blended scotch in the Royal Salute lounge.
On Friday 2nd September members of the Beijing media were invited to the NUO Hotel Yuan Tea Pavilion for a Walpole Insight Forum collaboration with British Polo Day – a panel discussion on British luxury in China's economy lead by Walpole Chairman Michael Ward, also Managing Director of Harrods, Grace Chen, China's most prolific designer in the circles of power and Edward Olver, Britannia Elevation CEO & Co-Founder of British Polo Day. The topic is particularly relevant as UK businesses look to originate new and strengthen commercial relations in China. The forum attracted editors from business publications including The Financial Times, The Economist and Jing Daily as well as luxury publications such as Vogue, ELLE, Conde Nast Traveler and Harper's Bazaar.
That evening Chadwick Delaney, Managing Director of the royal warrant holding wine merchant Justerini & Brooks, hosted an intimate dinner at the picturesque JE Mansions with VIP guests including Grace Chen and The Lord Kenilworth. The dinner was an opportunity for entrepreneurs, brand principles and prominent international and local guests to bond over a mutual appreciation of fine wines from an international context.
Saturday 3rd September brought clear blue skies for the 6th British Polo Day China at Tang Polo Club, the undisputed "gold standard" home of polo. Kindly hosted by Shilai Liu, Owner and Founder of Tang Polo Club and Director of Leicester City Football Club, British Polo Day China attracted 250 distinguished guests including Angelica Cheung, Editor-in-Chief of Vogue China, Keith Foo, Malaysian actor, Christy Wen Chinese TV Host, fashion designer XiXi Zhang and Miss Malaysia, Natalia Ng. Notable were the extraordinary Bentley Motors on display, the essence of British luxury and a show of unrivalled craftsmanship. The Bentley Bentayga and Mulsanne were revered by all and those who couldn't resist were fulfilled with a test drive of the Bentley Flying Spur.
The famous Harrods Green Man proudly welcomed enamoured guests through the picturesque Harrods flower arch. The Champagne Taittinger reception provided a delicate taste of luxury before guests ventured towards the pitch where an enthralling game of Brompton bicycle polo was being battled out between the enthusiastic British Exiles and Rest of The World teams. NUO ensured guests were well fed with a variety of delicious food before the afternoon's polo commenced.
The first match was between the Bentley Tang Polo Club and the RJI Capital Commonwealth teams. The Bentley Tang Polo Club quickly gained a 3 1/2 goal lead by half time. The second half was an impressive show of talent as despite Sam Gairdner of the RJI Capital Commonwealth team playing valiantly, the dynamic duo of Lucas Lujan and Miguel Diaz managed to score a goal in just 2 shots from the backline, securing the RJI Capital Dynasty Plate for the Bentley Tang Polo Club.
The stunning exhibition of Ethan K exotic bags drew the fashionable crowd to admire both the beautiful bespoke designs as much as Ethan himself who entertained all with his dynamism, insight and smile. Many guests headed to the roof terrace of the club to the comfort of the Royal Salute lounge where guests had an elevated view of the final match of the day between the Royal Salute Yaozhi AMC and NUO Hotel British Schools teams. Diego Gomez led his team to another early lead against their British opponents, despite Chevy Beh of the NUO Hotel British Schools team who tried his best to keep them at bay. The interplay between Rodrigo Bauzada and Diego Gomez was too much for the visitors as the Royal Salute Yaozhi AMC team won the game with a score of 8-4 to win the Bentley Tang Cup.
The accomplished polo players gathered in front of enthralled guests for the Prize Giving Ceremony where British Silverware's gleaming plate and trophy awaited their worthy champions. Graeme Russell and Alice Wei of Bentley Motors presented the RJI Capital Dynasty Plate to the Bentley Tang Polo Club as Michael Ward awarded the Royal Salute Yaozhi AMC team with the Bentley Tang Cup. Chevy Beh received the honour of the Royal Salute Most Valuable Player as Peter Prentice bestowed him with a bottle of 38 year old Stone of Destiny Royal Salute whisky followed by a Royal Salute toast with all the players and guests.
Shilai Liu's stunning mare, La Tucumana, was awarded the NUO Hotel Best Playing Pony prize by Danny Parnack. Ethan Koh presented perhaps the most sought after prize of the day, a bespoke clutch to the Best Dressed Woman, the glamorous Iris Lu who stood out in a crowd of fashionistas in a stunning red dress.
Closing the day, the harmony of two cultures was united through Britain and China's shared values of tradition and the warm embers of developing business relationships was in evidence everywhere.
For further information please visit www.britishpoloday.com and www.rjicapital.com.
British Polo Day China
Saturday 3rd September 2016
Tang Polo Club
Beijing
Official Partner List for British Polo Day China 2016;
RJI Capital, Harrods, Royal Salute,  Bentley Motors, Charles Russell Speechlys, Justerini & Brooks, Champagne Taittinger, Walpole British Luxury, British Silverware, Clinova, NUO Hotel Beijing, Randle Siddeley, Charles McDowell Properties, Chase Vodka, Brompton Bicycle, True Luxury Travel, Ethan K, Taylor Morris Eyewear, DR Harris, Floris, South Kensington Club, Barnard and Westwood, Alice Made This and Cassabo.
About British Polo Day
British Polo Day is a celebration of British luxury heritage – Over the past five years the British Polo Day calendar has grown to encapsulate a network of 10 global experiences per year including Abu Dhabi, Dubai, USA, Marrakech, Great Britain, China, St.Tropez, Singapore, Nihiwatu, Mexico, Jodhpur and Jaipur. Partnering with a selected group of partners with a combined heritage of over 2500 years, British Polo Day brings together a global network of over 28,000 eminent entrepreneurs, government officials, philanthropists and not to mention members of 12 Royal Families. This distinctive platform provides our partners and guests elite engagement in emerging and interesting markets whilst sharing in unique experiences across the globe.
About RJI Capital
RJI Capital is a wholly owned subsidiary of Magellan Investment Holdings, Limited, an Anglo-American investment holding company with investments in energy and natural resources, aerospace and defence, real estate, and technology. RJI Capital is a strategic advisory and merchant banking firm with a premium track record in new market entry and international transactions, having closed deals totalling more than $20B in value. RJI's industry-leading services and expertise are delivered from its headquarters in London, and supported by offices in Dubai, Hong Kong, New York, Paris, Washington, D.C., and Zurich. RJI Capital's sister company, Arcanum, is a global intelligence company that provides services to sovereign governments, large multinational corporations and financial institutions, to help address some of their most pressing challenges and complex strategic issues.